As any bride-to-be would tell you, finding that perfect manicure to top off your wedding look can be quite the challenge. But worry not, we think we've got just what you need! We present to you a timeless classic: lace print nails! So say goodbye to stilettos and hello to feminine florals. Not only is this timeless nail art breathtakingly gorgeous and one of the trendiest accents for brides right now, but it also provides an aura of romance and sophistication – something every bride needs on her special day. From intricate designs featuring lace prints in pretty pastel colors that are both playful yet elegant or long ovals in white with gold glitter adornments – these beautiful masterpieces come together like pieces of an intricate jigsaw puzzle! Read on as we discuss why opting for a lace print manicure could be the icing on your cake.
Tips for the perfect lace print wedding manicure
Prep your nails: Before starting your lace print wedding manicure, trim and file your nails into the desired shape. Next, buff them to smooth any imperfections.
Apply a base coat of polish: Pick out a nail color for your base coat that will complement the lace print design you want to achieve. Once you've selected it, apply two layers of the polish, allowing each layer to dry before applying the next one.
Create an outline for your lace print design: Use a thin-tipped brush and black or white nail polish to draw out an outline of the lace pattern on each nail bed. Take time with this step, as precision is key to achieving a professional-looking manicure.
Carefully fill in the design: Once your outline is complete, you can start filling in the lace print pattern with a different nail polish color. When doing this step, make sure to use small brush strokes and take your time so that your design is good.
Finish off with a top coat: To keep your lace print wedding manicure in tact for days, apply one layer of clear polish on each nail. Allow it to dry completely before applying any other products like hand cream or cuticle oil. Enjoy showing off your beautiful nails!
Consider adding a few embellishments: If you want to take your manicure up a notch, consider adding a few sparkly gems or rhinestones to give it some extra bling. To do this, apply a small amount of nail glue onto the area you want the embellishment and carefully press it into place. Allow it to dry before finishing off with another layer of clear polish. You're now ready to go!
Finish with cuticle oil: Cuticle oil helps keep your nails healthy and hydrated, so remember to finish your look by massaging some around each cuticle once your manicure is complete. This will help keep your nails looking perfect for weeks. Then, enjoy your stunning lace print wedding manicure!
Lace print nail art – a bride's guide to stylish manicures
Lace print nail art is one of the most sought-after styles for brides. It provides a classic, romantic look that can be dressed up or down, depending on your preference. If you want to add a touch of elegance and sophistication to your wedding day manicure, then lace print nail art is worth considering!
There are many options available when it comes to creating the perfect design for your nails. You can either purchase pre-designed transfers from beauty stores or use stencils and polishes from home if you prefer. Once you have decided which design will suit you best, it's time to create the perfect base layer. Start by applying two coats of opaque white polish, as this will provide a good base for the lace design.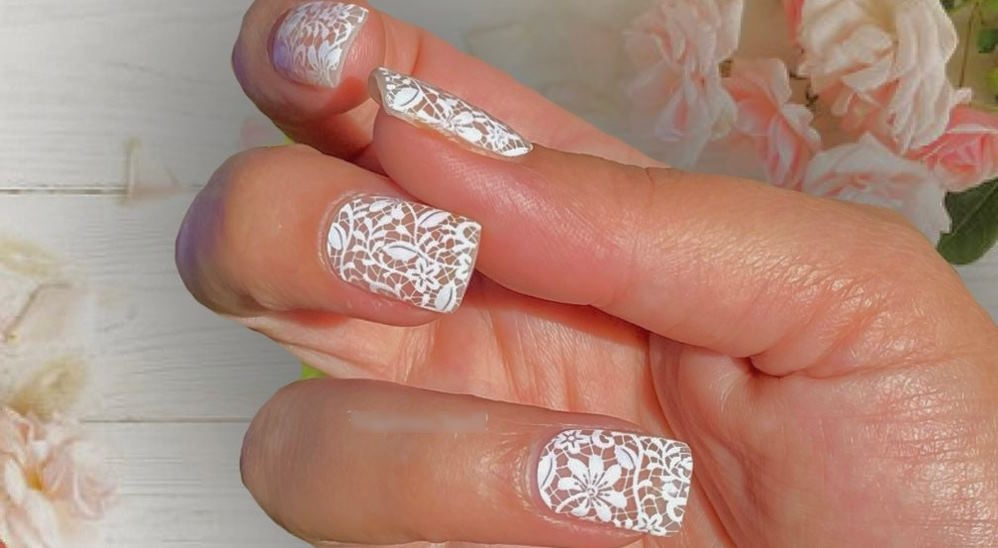 Next, it's time to add your chosen design. If you have purchased transfers, press them onto your nails and seal them with a clear topcoat. For those using stencils, carefully place the stencil on each nail and use a thin brush to apply the selected polish color over the stencil in light brush strokes. Once dry, carefully remove the stencil and finish up by applying a layer of top coat for added shine!
Finally, remember that even if you don't feel like going all out with intricate designs and polishes, you can still rock an elegant lace print manicure on your big day. Just opt for white or nude polish and use small lace stickers as an accent. This will still add a romantic feel to your look and will impress all of your guests!
With these tips in mind, you can be sure that your wedding day manicure will be truly stunning. Whether you decide on subtle or extravagant nail art, the result is certain to make heads turn as you walk down the aisle! So have fun and enjoy this special moment – after all, it's your big day!