Your wedding day is one of the most special days in your life, and showing off a stunning manicure with ombre wedding nails is sure to make an impression. Ombre nails are a great way to bring subtle glamour to your bridal look without going overboard. From lighter shades that dance across each nail from white tips up, or deeper tones featuring various hues of purples and blues, the options for creating beautiful ombre wedding nails are endless! In this blog post, we'll explore some dreamy ideas for ombre wedding nails so you can find the perfect style for your special day.
How ombre wedding nails will add the perfect touch to your look
Ombre wedding nails are a great way to add a subtle but stunning touch of glamour to your wedding look. Not only will they make your hands look beautiful and elegant, but they'll also add something special that will set your style apart from the rest. Ombre nails can be done with any color, so you'll have plenty of options when selecting the perfect shade for your big day. Whether you opt for classic white or ivory, bold red, romantic pink or daring black, ombre nails are sure to be a showstopper no matter your color. You can even mix and match shades for an extra unique look! To complete the effect, add on some jewels, glitter or rhinestones for a glamorous finish. With ombre wedding nails, you'll be sure to turn heads at your wedding and leave a lasting impression!
If you prefer something more subtle yet still eye-catching, try out half-moon ombre nails instead. This style uses two colors that gradually blend into one another in the middle of your nail bed. You can choose any two colors that will look beautiful together – from pink and purple to black and white – and create an elegant look with just the right amount of sparkle. For extra detail, use a thin line of gold or silver glitter around the edge of each nail to tie your bridal look together perfectly.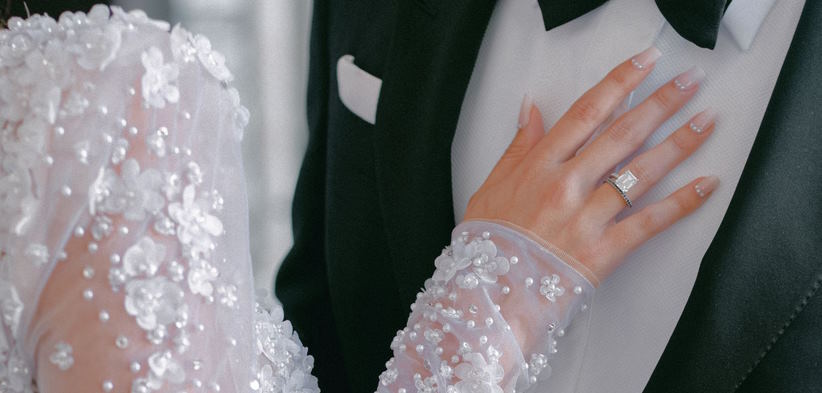 No matter which color combination you choose, ombre wedding nails are a great way to add a touch of glamour and sophistication to your look. They'll instantly make your hands look stunning while still keeping the focus on you as the bride! So whether you opt for classic half-moon ombre or a more daring mix of colors, ombre nails will be sure to complete your bridal ensemble in all the right ways.
Whatever design you settle on, discuss it with your nail technician in advance so they can create custom polish shades that are perfect for your big day. This way, you'll have beautiful ombre wedding nails that are unique to you, and you won't have to worry about anyone else having the same look. Trust us – ombre wedding nails will add the perfect touch of sophistication and glamour to your look on your special day!
This concludes our discussion on how ombre wedding nails can add the perfect touch to your look on your special day. We hope this article has been helpful in helping you decide which style of ombre nails is best for your bridal ensemble.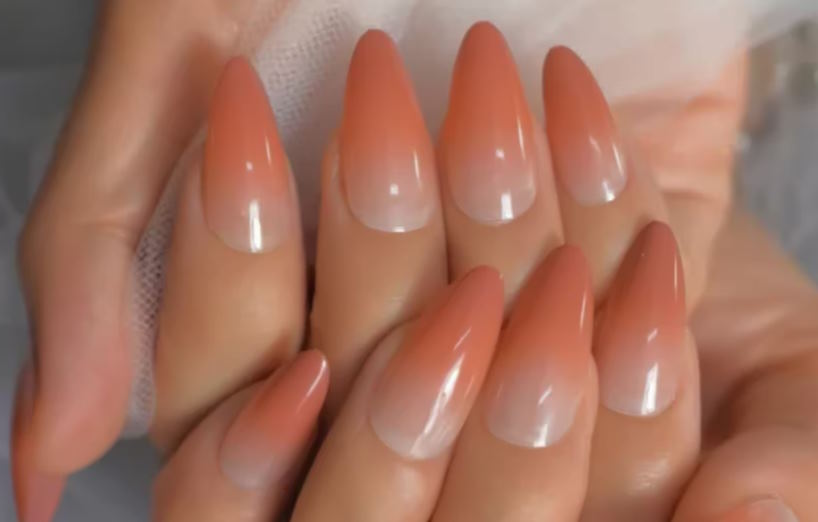 How to achieve ombre perfection on your big day?
Ombre perfection on your wedding day can be achieved with a few simple steps.
Start by deciding which color you want to use for your ombre look. This could be anything from light pastels to bold, vibrant shades, so choose the one that best suits your style and personality!
If you're going for a subtle effect, you may want to opt for an all-over wash of color where the darkest shade is used at the bottom and gets lighter as it moves up – this will help create a gradual fade. For a more dramatic look, try alternating sections of darker and lighter hues.
To apply the ombre effect, use a professional manicurist or a good quality dye kit. For the best results, follow the instructions carefully and take your time.
Once you have achieved your desired look, use a strong-hold spray to keep everything in place throughout your big day. You may also want to finish off with an extra spritz of shine spray for added sparkle!
Following these simple steps, you can easily achieve ombre perfection on your wedding day – perfect for adding a unique twist to any bridal look!